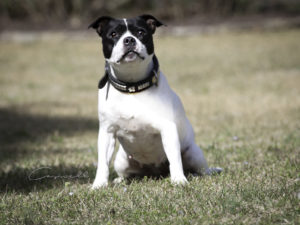 Rosey was born in San Diego, California on May 9, 2012.
Rosey is my first Stafford and lives only to be a companion, and my soulmate. Rosey has a good temperament that complements my other two Staffords, while simultaneously being an individual and just being Rosey. She enjoys sunbathing and peacefully sleeping by myside. Rosey is loving, gentle but still amazingly fierce while still being incredibly spry. Although she is friendly to all, I often say, "she only has eyes for me."
As part of my contract with her breeder, I was required to breed her. She was breed in 2015 and in February 2016 she gave birth to one pied beautiful boy, Romeo.